Vashon 2020 Pop-Up Car Parade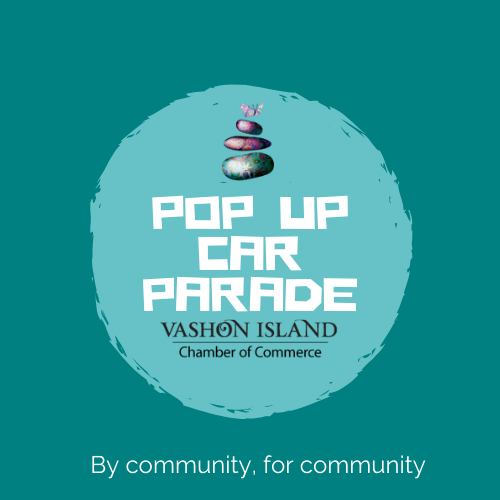 Summer 2020 may look different from others past and future, but there's still nothing like summertime on Vashon. To celebrate this, the Vashon-Maury Chamber of Commerce is organizing a way to connect during this decidedly unique season.
On July 4, starting at 10 AM, Vashon businesses and community groups will gather in decorated vehicles and move through island neighborhoods as a 'Pop-Up Parade'. Unlike past years, when our neighbors came to a parade, this year we're bringing the parade to our neighbors. It's a way to spread cheer and see the people we care about—all while protecting our community's health and safety.
For great music during the event and also to find the whereabouts of the parade, tune in to Voice of Vashon 101.9 (or download the app for more consistent service) that morning. Take a brief walk or post up on your driveway with your family, wave, and have a laugh with us as we connect in solidarity around a most unusual year. Please be aware of traffic, emergency vehicles, and physical distancing.
We Love You, Vashon! Fabulous!

For our participants: Thanks for your interest in Vashon's first pop-up parade! To ensure we keep our community safe and healthy, we ask all participants to observe the following social-distancing guidelines: 
The number of vehicles in the parade will be limited

 based on factor

s such as road capacity. If we receive more interest than we can accommodate, we'll accept organizations on a first-come basis. If there's strong turnout, we may also split the parade into separate, smaller groups.

 

Vehicles/floats must be appropriate from 

a social distancing standpoint.

 If you want to put a bagpiper on a flatbed truck, go for it! But don't bother getting the band back together. 

We expect all participants to be at least six feet apart unless you're sheltering at home with each other

. Please 

also maintain distance from parade observers.

 

Please keep messages positive and inclusive.

 This is about giving our community something to celebrate at a difficult time. Floats and vehicles should be family-friendly and designed to delight our neighbors. M

ake it fun for 

everyone

!

 

Monitor current King County health and safety rules.

 While the Vashon-Maury Chamber of Commerce will do 

everything

 we can to communicate the latest policies in advance of the July 4 pop-up parade, please continue to monitor guidanc

e from state and local authorities.

 
Questions? Concerns? We're committed to parading responsibly. Please feel free to contact us at executivedirector@vashonchamber.com. 
To summer!