Join us for Vashon Summer nights!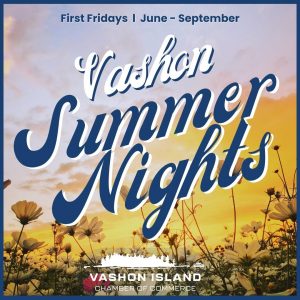 Vashon Summer Nights blends some of the best nights of the year on Vashon with the already vibrant First Friday Gallery Cruise and Art Walk – which is and will continue to be the highlight of the night.
First Fridays June – September 2023
June 2, July 7, August 4, September 1
Vashon Highway closed from 5pm - 8pm from 174th (Subway) to 178th (Theatre)
The Vashon Chamber of Commerce is proud to host Vashon Summer Nights! Join us on first Fridays June - September and enjoy a fun, casual evening. Sip, snack, and stroll the street enjoying art galleries, restaurants, and most of all mingling with community on a warm summer night.
Detour Routes
Southbound detour for Vashon Highway on the east side: left Subway and take 174th behind Thriftway to Beall Rd.
Southbound detour on the west side will be easiest at Cove Rd., to 115th, to Bank Rd.
Northbound west detour will run 178th to 103rd past IGA to Bank Rd.
Northbound east detour will be easiest at 192nd (Mom's/Shell) down Beall to Bank and 174th.
Community Events: Friday, June 2
Community Chalk-Art Installation
5.30pm -
4-way at Vashon Highway and Bank Road
Watch artist Jennifer Hawke chalk a sacred pattern at the 4-way uptown, similar to the installation she did in 2020 for the Vashon Food Bank. When the pattern is complete, community members and kids of all ages are invited to help fill in the pattern with street chalk. Limited amounts of chalk will be on-hand, and participants are invited to bring their own to color the street and help kick-off our joyous First Friday celebrations.
Kid's Town-Wide Word Art Poem
5.30pm - 
Start at Island Queen
17705 Vashon Hwy SW
Chautauqua 5th grade teacher Ashley Smith is organizing an interactive word poem activity for Island kids. She will provide an outline of Vashon Island for kids to create a list or shape poem about island businesses and artists. Kids should first visit her table at Island Queen to get supplies and helpful guidelines, then visit  businesses and galleries to choose words for their poems. The finished product will be a list or shape poem about the different places on Vashon that make it special and wonderful, and unique to each child that creates the poem. Participating kids also receive a cone token from Island Queen!
Vashon Heritage Museum: Night at the Museum
5pm - 8pm
10105 SW Bank Rd
History Contest Winners announced at 6pm
Island families are welcome for the contest announcement. The community is also invited to listen to the new audio translation (English or Spanish) of Natural Wonder: An Island Shaped by Water. Indoor and outdoor exhibits open and free to the public!
Vashon Center for the Arts: Monuments to the Past Exhibition Opening
5pm - 8pm
19600 Vashon Hwy SW
Monuments to the Past is an exhibition of large photographic images from a new book by Bill Rives & Julie Speidel of Vashon Island's ancient stumps. The photographs for the show and book create an immersive forest experience that connects us with nature and brings to life a little-known Vashon Island treasure that is an important part of our natural history. Come to this First Friday show opening and book launch and meet Bill and Julie.
First Friday at Vashon Village
6pm - 9pm
17205 Vashon Hwy SW
Join the businesses at Vashon Village for the festivities on Friday, June 2nd from 6 pm- 9 pm! Wine and light refreshments will be served, and Vashon Pub & Smokehouse will be open with local draft beer and delicious food.
Live music from Ken Jacobsen, the thought-provoking photography of Shelley Hanna Photography and the award-winning watercolor of Jeff Good will be on display at Mode Music Studios and Waldron Designs, LLC, respectively.
Windermere
5pm - 
17429 Vashon Hwy SW
Fire pits in the parking lot and food from Aeggy's.
Vashon Senior Center
5pm - 6pm
10004 SW Bank Rd.
Community Canvas Show
Who can participate in the First Friday events calendar?
Everyone. First Fridays and the Art Walk began as community-driven, community-owned events and will stay that way. If you have a Vashon summer First Friday event you would like listed here, please contact us!
By providing the street closure, the Chamber seeks to support even broader community participation and increase the space available to all. Everyone and every business in the community is welcome, not just folks in town.
Vashon Summer Nights supports and encourage businesses and artists who don't already have a space uptown to create an outdoor retail space for the night. This might be done by collaborating with other businesses or independently. It may also be done via First Friday activations and celebrations in other island locations, which we would also promote. The Chamber invites anyone who's not a town-based business to contact us to learn more about this opportunity.
For businesses, galleries, and artists already based in town, the Chamber is encouraging and inviting innovation and activation at your storefront to attract and retain consumers walking the main highway. Vashon Summer Nights will exist to create an engaging, active, and festive atmosphere throughout the town core to boost community spirit and retail support.
Questions?
Please contact Amy Drayer, Executive Director at The Chamber, amy.drayer@vashonchamber.com l 206-463-6217