Join us for Vashon Summer nights!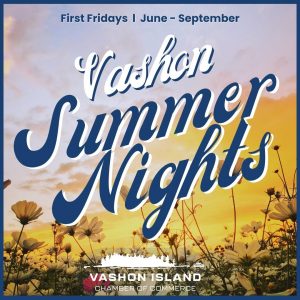 Vashon Summer Nights blends some of the best nights of the year on Vashon with the already vibrant First Friday Gallery Cruise and Art Walk – which is and will continue to be the highlight of the night.
First Fridays June – September 2023
June 2, July 7, August 4, September 1
Vashon Highway closed from 6pm - 9pm, Bank Road to 178th (Theatre). Bank Road will be open to traffic.
The Vashon Chamber of Commerce is proud to host Vashon Summer Nights! Join us on first Fridays June - September and enjoy a fun, casual evening. Sip, snack, and stroll the street enjoying art galleries, restaurants, and most of all mingling with community on a warm summer nights.
Who can participate in First Fridays? Everyone. First Fridays and the Art Walk began as community-driven, community-owned events and will stay that way. If you have a Vashon summer First Friday event you would like listed here, please contact us!
By providing the street closure, the Chamber seeks to support even broader community participation and increase the space available to all. Everyone and every business in the community is welcome, not just folks in town.
Vashon Summer Nights supports and encourage businesses and artists who don't already have a space uptown to create an outdoor retail space for the night. This might be done by collaborating with other businesses or independently. It may also be done via First Friday activations and celebrations in other island locations, which we would also promote. The Chamber invites anyone who's not a town-based business to contact us to learn more about this opportunity.
For businesses, galleries, and artists already based in town, the Chamber is encouraging and inviting innovation and activation at your storefront to attract and retain consumers walking the main highway. Vashon Summer Nights will exist to create an engaging, active, and festive atmosphere throughout the town core to boost community spirit and retail support.
Questions?
Please contact Amy Drayer, Executive Director at The Chamber, amy.drayer@vashonchamber.com l 206-463-6217