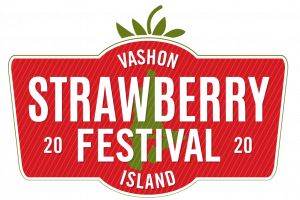 The 2020 Vashon Island Strawberry Festival
July 17, 18 & 19 2020

NEW! Festival Starts Friday! Booths Open Friday from 2pm to 9pm!
Nothing says SUMMER like the Vashon Island Strawberry Festival!
Welcome to Strawberry Festival! Vashon Island's 111th Annual Strawberry Festival is a celebration of Vashon's agricultural, artistic and cultural heritage and showcases all that makes Vashon Island unique.
The Strawberry Festival has a faithful following with an average attendance of 30,000 for the weekend! A grand-parade, classic car parade, several performance stages, a variety of vendor booths, kids' activities, local featured artists, and street dances are all part of the fun. Toss in a rocking beverage garden serving local spirits, pancake breakfasts and a fun run and you have an event that engages people all weekend. Because we are an island we create an event that you can linger longer than at other festivals, make a weekend of it and stay on Vashon.

NEW FOR 2020! By popular demand, we are extending Festival to include Friday afternoon and Friday night, 2pm to 9pm. 
SCHEDULE OF EVENTS
:
Friday, July 17
th
 - Festival kicks off
12 p.m. Vashon Hwy closes 
2 p.m. Vendor booths open until 9 pm 
2 p.m. Sip Vashon Stage (local beverage/beer garden) opens at Vashon Village Music until midnight
6 p.m. Music at Snapdragon  
7 p.m. Friday Night Uptown Street Dance 
Saturday, July 18th
7:00 a.m. Sportsman's Club Pancake Breakfast in Vashon Market IGA parking lot (Click For Info) 
7:30 a.m. Check-in for Bill Burby Run (starts at 16800 Vashon Highway) (Burby Website) 
8:30 a.m. Shuttle service begins 
8:30 a.m. Bill Burby Run begins 
10 a.m. Vendor booths open 
10 a.m. Bubble Fun Kids' Zone at Vashon Theatre  
10 a.m. Quilt Show at Vashon Presbyterian Church (17708 Vashon Hwy SW) 
10:45 a.m. Kids Parade starts at Vashon Methodist Church (17928 Vashon Hwy SW) 
11 a.m. Grand Parade starts (from south to north past Ober Park) 
Noon Sip Vashon Stage music until midnight 
12:30 p.m. Pull-Ups Challenge at CrossFit Vashon 
1:00 p.m. UMO School of Physical Arts performance in Ober Park 
1:30 p.m. Pandora's Box Stage opens 
2:00 p.m. Physical Arts in Ober Park 
2:00 p.m. Uptown Street Stage music starts

4:00 p.m. UMO School of Physical Arts performance in Ober Park 
4:00 p.m. Tire Flip Challenge at CrossFit Vashon 
6 p.m. Swing dance lessons in front of Sporty's 
7 p.m. Shuttle service ends 
7 p.m. Portage Fill Street Dance in front of Sporty's 
9 p.m. Uptown Street Stage music 
10 p.m. Unofficial Mayor Race results announced at Sip Vashon Stage 
Sunday, July 19th
8 a.m. Sportsman's Club Pancake Breakfast in Vashon Market IGA parking lot (Click For Info) 
8 a.m. Tom Stewart Classic Car Parade registration opens at Vashon Center for the Arts 
9 a.m. Shuttle service begins 
10 a.m. Vendor booths open 
10 a.m. Bubble Fun Kids' Zone at Vashon Theatre 
10 a.m. Quilt Show at Vashon Presbyterian Church (17708 Vashon Hwy SW) 
11:30 a.m. Pandora's Box Stage opens 
11:45 a.m. Tom Stewart Classic Car Parade departs Vashon Center for the Arts.  Automobiles arrive and display uptown. (Click for Info) 
Noon Sip Vashon Stage beverage/beer garden opens 
1 p.m. Sip Vashon Stage music opens 
5 p.m. Festival closes 
5:30 p.m. Shuttle service ends 
8 p.m. Streets re-open 
Thanks to our 2019 Sponsors