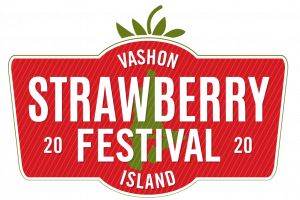 Use of (but not required) "Vashon Island Strawberry Festival" trademark, Vashon related imagery, Strawberries etc.
Solid color, limited to 1-2 colors (no gradients or half-tones)
Ability to upload as high resolution digital image in .jpg, .gif or .png format
Original creation (not previously published, does not contain trademarks, logos or copyrighted works and promotion of self or individual business/organization etc.)
Vector art is preferred; when sending vector, please convert text to outlines as spot colors.
If using Photoshop, please maintain layers, masks, channels; set at 300 dpi for final print size; use RGB mode.
Adult content (profanity, drugs, violence, etc.)

Political or religious influence
Negative or demeaning speech
Use of trademarked and/or copyrighted material
Promotion of self, private businesses, organizations, events etc.
Hand-drawn images will be accepted but should be limited to simple line-art and easily transferred to digital format.
111th Annual Vashon Island Strawberry Festival Postponed Until 2021
Due to the ongoing coronavirus pandemic and the state's social-distancing guidelines, the Vashon-Maury Chamber of Commerce is announcing that the 111th annual Vashon Island Strawberry Festival, scheduled to be held July 17-19, 2020, will be postponed until 2021.
The decision is the result of long discussions with island residents and businesses. Despite all that the festival contributes to the community, we feel that postponing the event is the most responsible path forward.
"This was done with careful consideration for the health and safety of our community," said Cheryl Lubbert, president of the Vashon-Maury Chamber of Commerce. "So much of the Strawberry Festival is about people coming together. It's been difficult to figure out how to do that responsibly during a time of social distancing."
We're proud of our annual Strawberry Festival, which over the past century has become a celebration of summertime and of Vashon Island's unique culture and heritage. Last year's event drew more than 30,000 attendees and hosted 159 vendor booths. The majority of businesses and organizations represented are based here on Vashon Island. The festival also raised more than $60,000 for local nonprofits and partnered with numerous on-island eateries and cultural centers, including the Vashon Island Farmers Market and the Vashon Theatre.  
The Strawberry Festival will be back. The Chamber of Commerce is already hard at work planning next year's festival. We're also exploring other opportunities for our community to come together this season that better fits the state's social-distancing guidelines.
"We're looking into ways that on-island residents can still come together, support each other, and have something to look forward to during this difficult time. We already have a few ideas, so stay tuned," Lubbert said. "We want our community not only to survive but to thrive, and the only way we do that is together."
The Chamber of Commerce is in the process of contacting vendors and partner organizations about the festival's postponement. Participants who have already paid registration fees will have the option to receive a full refund or simply apply them to the 2021 Strawberry Festival.