Now through Saturday, July 17, 2021
**Non-Profit to collect all donations and deliver a check of 15% of declared fundraising amount to Vashon Chamber of Commerce at close of contest on 7/17**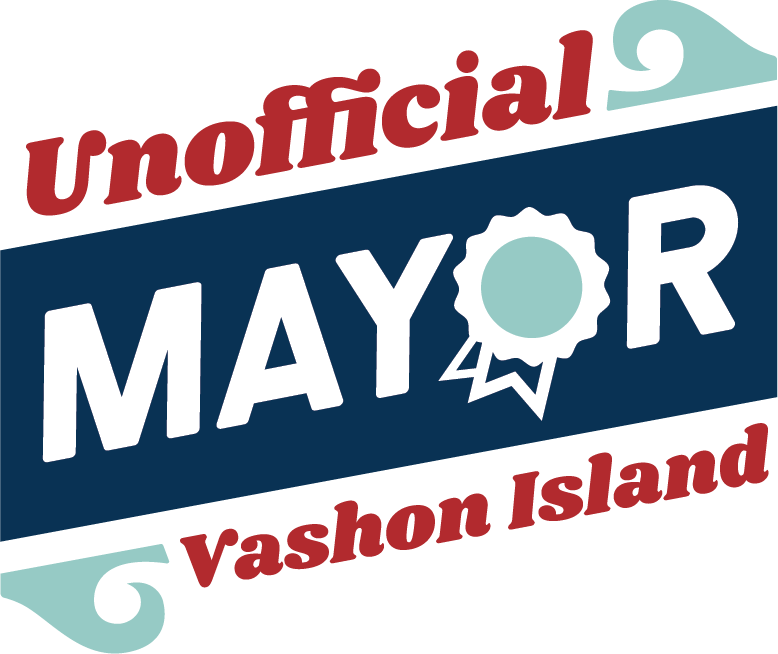 Run for Unofficial Mayor!
Make 2021 a Great Year & Raise Money for Your Favorite Island Non-Profit
THE ELECTION IS OPEN TO ANY VASHON-MAURY ISLAND RESIDENT
Every year, the Vashon-Maury Chamber of Commerce partners with Vashon Island nonprofits to hold a fundraiser where representatives ("Mayor Candidates") campaign for their non-profit of choice.
The candidates are encouraged to use various forms of fundraising to collect donations for their nonprofit. Every dollar is considered a vote, and at the end of the campaign, the candidate with the most votes wins!
We invite all non-profits to enter their candidate into the annual Vashon Unofficial Mayor Race. This is one place where buying a vote does good – by supporting our local non-profits.
CHANGES FROM PREVIOUS YEARS
Contestants may start collecting donations immediately after submitting this form and emailing an IRS certification from non-profit to steven.brewer@vashonchamber.com. If non-profit status cannot be verified the candidate will be disqualified. Deadline for Unofficial Mayor Candidate Application is July 1st.
Fundraising:
Non-profit responsible for collecting and tracking all donations
Non-profit to deliver 15% of final donation amount to Chamber at close of contest to be eligible
Diversify fundraising for better results! Online campaigns, events hosted by non-profit, candidate websites, and partnership with businesses to collect donations are all encouraged
Chamber will NOT monitor, distribute, or track collection jars
Advertising:
Non-Profit will be provided "Unofficial Mayor" logos for candidate and non-profit use
Feel free to link vashonchamber.com/unofficial-mayor to advertisements
The Chamber will promote and amplify contestants and encourage donation equally among candidates
Deadline for Unofficial Mayor Candidate Application:
How it works if you are a non-profit:
Select a candidate to run.
Fill out this Submission form
Submit a copy of your IRS certification to the Chamber of Commerce by emailing to steven.brewer@vashonchamber.com
You may begin fundraising after the above is complete (If non-profit cannot be verified, or candidacy is inappropriate for public promotion the candidate will be disqualified)
How it works if you are an individual wanting to support an non-profit:
Select the non-profit you want to represent.
Contact the non-profit and have them fill out this Submission form, listing you as the candidate.
The non-profit needs to submit a copy of their IRS certification to the Chamber of Commerce
You may begin fundraising after the non-profit approves you to do so
One dollar equals one vote.
One candidate per nonprofit.
Campaigning and collecting votes/dollars can start once you have submitted the application
Candidate will disqualify if non-profit status cannot be confirmed, or if candidacy is found inappropriate for public amplification (i.e Offensive, explicit, or competing with intended purpose of positive community engagement).
Any money collected during your campaign time can be accounted for as Unofficial Mayor votes.
Selected nonprofits must be Vashon-based 501C3 organizations.
Voting ends noon on Saturday July 17th.
You are responsible for tallying up the money you raised, and then reporting the amount to Steven Brewer & Carly Nelson at the merchandise booth at 12 noon.
Your non-profit organization may keep 85% of the money you raise, with the remainder going to the Vashon-Maury Island Chamber of Commerce. This can be paid by check or bank transfer by July 28, 2021.
The candidate with the most money raised is elected Unofficial Mayor.
The winner is verified by The Chamber Board of Directors July 17th, 2021.
The winner will be announced at 8 pm at the Strawberry Festival main stage (IGA Parking lot).
The mayoral term lasts until the following year's Mayor is elected.