Run for Unofficial Mayor!
Make 2020 a Great Year & Raise Money for Your Favorite Island Non-Profit
Have you always wanted to run for office? Here is your chance to become the Unofficial Mayor of Vashon-Maury Island and support your favorite island non-profit organization at the same time!

The election is open to any Vashon-Maury Island resident.
The Rules
Partner with your favorite island-based non-profit. The non-profit should provide the Chamber with a signed letter from the non-profit declaring your mayoral campaign - DEADLINE IS JUNE 15, 2020!
Agree to the candidacy terms here.
Announce your candidacy with a Press Release to be posted on the Chamber website.
The Chamber will work with you to set up your fundraiser in our store. Once you have a link, post it everywhere you can find!
Raise money!
If You Win
You will be invited to participate in Chamber-sponsored island events throughout the year. Even if you don't win, your non-profit still wins because you raised money and awareness for their mission.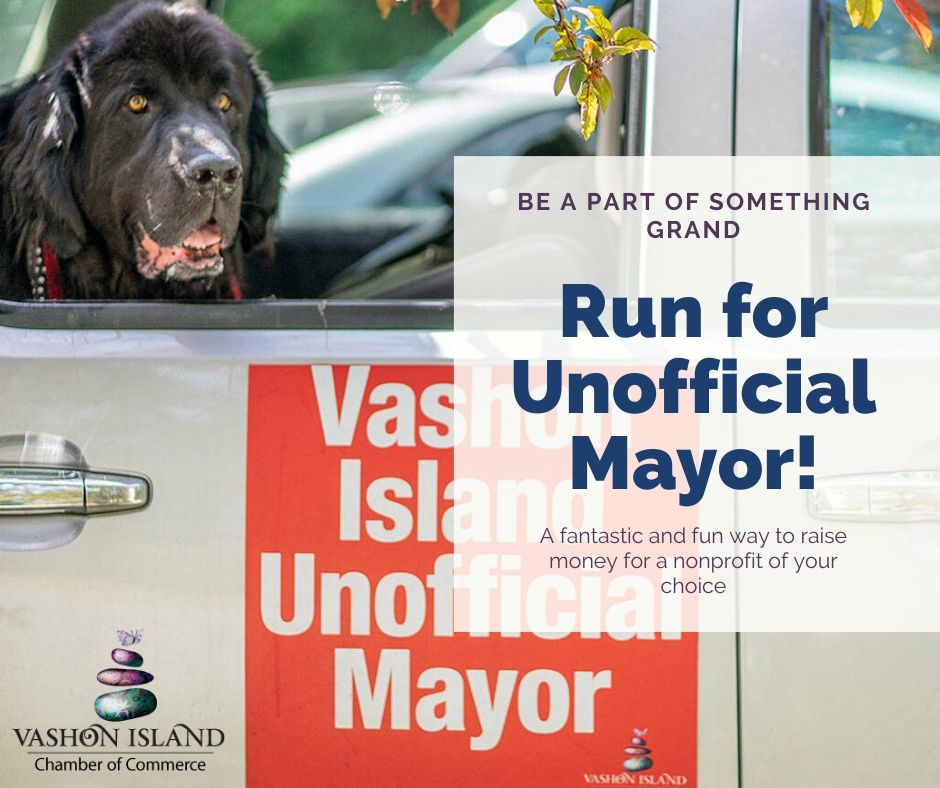 The Fine Print
The Unofficial Mayor Contest is a joint campaign by The Vashon-Maury Island Chamber of Commerce and participating Vashon Island charities.
Your non-profit organization will receive 85% of the money you raise, with the remainder going to the Vashon-Maury Island Chamber of Commerce.
The Vashon-Maury Island Chamber of Commerce is the fiscal agent of the contest.
Selected non-profits must be Vashon-based 501C3 organizations.
The participating non-profit must submit a letter giving the candidate permission to fundraise for them and copy of their IRS certification to the Chamber of Commerce by May 30, 2020
Voters can pay by check, cash, or credit card to the Vashon-Maury Island Chamber of Commerce.
Mayoral candidates must get permission from business owners to place donation jars at business locations.
Checks must be addressed to the Vashon-Maury Island Chamber of Commerce to qualify.
Cash from jars will be collected by the  Chamber of Commerce office.
The candidate with the most money raised is elected Unofficial Mayor.
The winner is verified by the Chamber Board of Directors July 18th, 2020
The Chamber will provide each non-profit with an accounting of funds collected and issue a check to the charity by the end of July.
Winner will be announced on July 19th, 2020.
The mayoral term lasts until the following year's Mayor is elected or by a majority vote of the Chamber Board.